ROMPERS!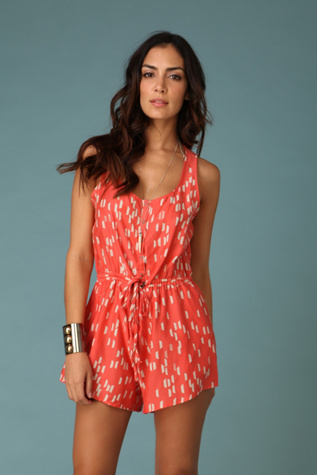 (love this dolce vita romper!!)
I absolutely love this romper trend! I have been wanting to wear them for years and now I finally can! It's a great easy summer outfit that is a garunteed  favorite! Especially in florals and patterns! Pair any pair of flats, wedges, or heals with it and its so cute! You can also have fun with bracelets, necklaces and even great and bold headbands and hair pieces.
What's really great is you can find them at any price, (As cheap as 20 dollars at target. )
CHUNKY JEWELRY
I think chunky jewelry can be really fun to play with. Pairing a bib necklace or chucky neck piece can really spice up any outfit. My favorite is paring a large necklace with just jeans and a t-shirt. Easy outfits are my fav and pairing great jewelry with them can add a bright or fun twist to any easy outfit.
MENSWEAR
The new trend of women wearing menswear is so fun. It takes a bold girl to wear it but if you've got the courage and style… Go for it! Love the tuxedo pants with vests and/ or blazers. They have serious potential for "WOW." I'm personally so excited, I just got a pair of tuxedo pants myself!
BOYFRIEND BLAZERS (boyfriend anything!)
I think it's so great that the idea of grabbing something out of your boyfriends closet (or at least looks like it is), throwing it on and looking fabulous can be done! Boyfriend blazers are my personal favorite. You can throw them over anything and it adds style and a sense of sophistication. My favorite new saying…"jackets, jackets, jackets!"
Boyfriend jeans are also so fun! Comfy and cute is great! With a pair of easy flats or fun wedges, boyfriend jeans can be so cute for a trip to the mall or lunch with friends.
Boyfriend button down shirts are easy to wear with skinny jeans or tucked into a fitted pair of shorts, maybe paired with some great jewelry. This look appears that you didn't put in any effort yet you look cute as ever!